For me, visiting Arran meant so much; it was a time for our family to connect and a time to have fun. We had a magical time exploring the island, spending time together and also meeting some wonderfully friendly locals.
We were lucky enough to spend a week exploring Arran during October half-term in 2020. It was our first proper holiday, in what had been the strangest year for everyone. As we boarded the ferry we were a little apprehensive, but also delighted to be away from home! Even though it's just a short ferry journey across to Brodick, it really feels like you are travelling somewhere (more than you would just jumping in the car) and the children were super excited with the novelty of it all.
The island is beautiful, around every corner there is another cute little seaside village. The road that circumnavigates the island has so many little hamlets with beaches and coffee shops along the way, you can happily meander along for hours, taking lots of pit-stops along the way.
One of the real treats travelling around the island was the wildlife, during our trip we saw seals lounging on the rocks on the beach at Kildonan, and one even popped his head up as we were walking on the beach beside the play park in Brodick. We also spotted otters, playing in the surf, as we had coffee and cake at Whiting Bay. We glimpsed lots of unusual birds and red squirrels. Along with brilliant beaches and standing stones, it felt like there was something interesting to see around every corner.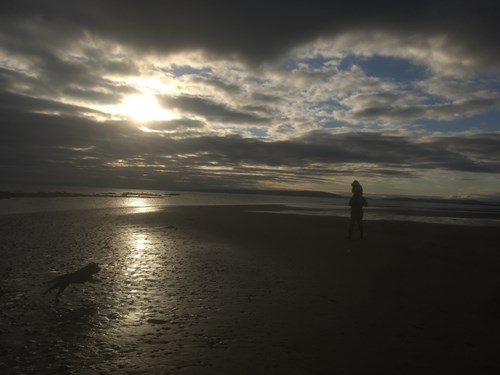 We stayed on the south of the island with amazing views of Ailsa Craig, the autumn weather could be seen arriving out at sea and the sunsets were very special with the big sky.
Arran is incredibly child-friendly; we sometimes struggle to find things that will entertain our gang with a ten year gap between Poppy our oldest and little Merle who is three (not forgetting Jonah in the middle!). As a result, we sometimes split up to do activities separately, what was truly lovely about Arran was the choice of things we could all do together.
Here are some of our highlights:

Bellevue Farm
Farmer Ailsa Currie and her family have created a brilliant farm tour which is suitable for kids big and small, she introduced us to all the animals including newest arrival a little super-cute ginger piglet called Magnus! Poppy and Jonah bottle fed the hungry pet calves and all three children ventured into the hen run to feed the chickens. Ailsa has a real varied gang of hens – it was great to see all the different breeds. We met Peter the sheep – quite a character, the donkeys, the pigs and three beautiful alpaca girls and an alpaca baby! And finally we met Tabitha the much-loved and very pretty Shetland pony.

As if running the farm and the tours wasn't enough, Ailsa also has two self-catering cottages, which would be a perfect place to stay in the heart of the farm. Visit Bellevue Arran >


Arran Alpacas
We also visited Arran Alpacas along at Balmichael, where Tom and Emma Jessop have set up a fantastic business. It's a really beautiful inland spot with stunning views. The alpaca boys are a lovely lot and once Tom has introduced them, you can take them for a walk . Poppy got paired with leader of the pack Dougal and Jonah took Glen for a walk, Merle was a bit too small, but she was delighted to wander alongside the group. The trek took place in the surrounding fields, armed with a paper bag full of alpaca treats the boys were very compliant and were happy to wander around the paths. They are beautiful animals, really gentle and child-friendly and the set up at Arran Alpacas was really thoughtful, with lots of attention to detail.
On-site the Jessops have built glamping pods, which not only have wonderful views and very cute alpaca neighbours, they also have lots of home comforts including a private wash hut (with loo and shower) and a portable pizza oven. www.arranalpacas.co.uk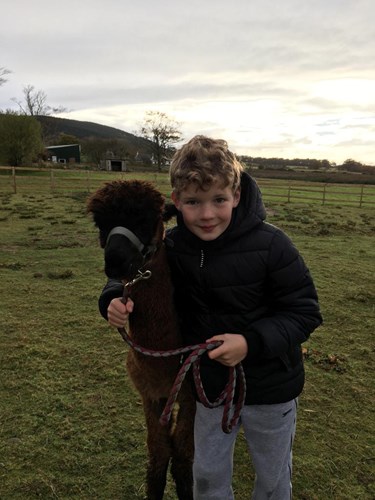 Goatfell
One of the highlights of our holiday was scaling Arran's highest peak, Goatfell. It was a stunning autumn day when we donned our walking boots and lifted Merle into the backpack. The hill itself is a big one, towering at 2866ft above sea level, so if you fancy giving it a go, make sure you are well prepared, as the weather can be changeable. The day we chose, the weather was beautiful, one of those crisp and bright autumnal days when everything looks golden. It's a decent trek, but the wonderful views were a much appreciated reward. As was the hot chocolate and cake when we got back to sea level.
Brodick Castle and Gardens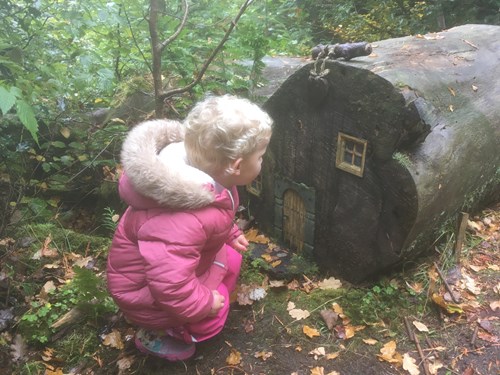 The Estate lies on the edge of the island's main town of Brodick. The day we visited, it was a bit overcast, but the autumnal orange, red and yellow leaves were shining in the wet and the weather didn't dampen our spirits at all. We decided to explore the gardens first – what a treat! They were wonderfully laid out, lots of little paths that children love to run around. I could have happily wandered around those gardens all day; there were sculptures, ancient trees, sea views, quirky garden houses and lots of exotic and unusual plants. I'd love to return in spring and summer and see them in full bloom.

Also within the grounds was a custom built adventure playground and ewok village which catered for all ages of children. There were a few waymarked walks around the grounds including a fairy house trail, which was really magical, weaving through the trees, perfect for keeping little ones engaged and on the move.
We also popped in for a look around the castle, probably more geared towards older children, it was very interesting; in particular the kitchen (recreated to look like it's preparing a magnificent feast) and a grand staircase with all the stag heads, were very impressive.
We love Arran; the location, the people and the very happy memoires we have from our holiday there. We can't wait visit again.
Jude Henderson is a Freelance PR Consultant, she also writes for the award-winning Mini Travellers blog https://minitravellers.co.uk/ which offers advice and inspiration for fun loving families who love to explore and travel.