Why Arran is the Scottish island to visit in Autumn
By
Robin McKelvie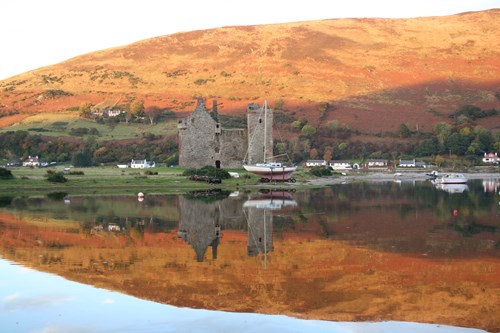 If you think Arran is all about buckets and spades on sunny beach days, and savouring an ice cream parading the Brodick promenade, I've got news for you. I'm not saying I don't love summer in Arran, it's just that for me the isle sparkles brilliantly in autumn too. With a milder climate and a longer season than the other Scottish isles too I'd go as far as to say Arran is the best island in Scotland to visit in autumn. Let's step off the ferry together and I'll show you why you should book an autumn escape to Arran.
First things first. Look along Brodick's main street. It's still open and indeed alive with action. Arran is no tourist confection – the island has a strong farming community and bursts along with superb food and drink producers who work on right through the year. We're talking a brace of whisky distilleries, a spirit operation (Arran Botanical Drinks) and on last count two breweries, though this being Arran there could be another one by the time this blog goes live! In short, Arran doesn't go into hibernation with the first falling leaves.
On to those falling leaves now. Arran is a leaf peeping paradise with swathes of forest across the island and I'm not just talking its plantations. Some of the most impressive trees lies within the sprawling grounds of Brodick Castle. Even if you don't go in the castle – you really should as it opens up Arran's rich history – the grounds boast myriad flora and fauna. It's not just native Scottish treelife you'll find either as seeds and saplings have been brought to Arran from all over the world. We're talking everything from hulking Oak trees to Alpine Ash, then on to Yew trees and even a type of Eucalyptus.
And while we're here let's kick through the leaves to Brodick Castle's red squirrel hide. Did you know Arran is the only island in Scotland to boast all of the Big Five wildlife thanks to the furry tailed wonders that reside in the Brodick Castle grounds? We're not done with those five (the others are harbour seals, otters, red deer and golden eagles) as we'll encounter more wildlife as we continue. In fact it is seals we find just outside the entrance to the grounds on the stretch of coast en route to Corrie. They'll be eking every bit of sunshine out of the day sunbathing on the rocks.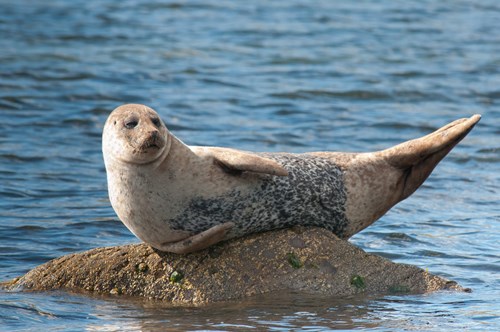 We continue past Corrie now to Sannox, where we skip across the wee stepping stones in search of the beach. The beach, in autumn? Absolutely. I've been to Sannox Beach when it's been blowing a hoolie and it's a life affirming joy. You may get wet, but you can look forward to getting all coorie (the Scottish version of Scandinavian hygge) later on. But also in autumn I've enjoyed proper warmth and even popped in for a snorkel with a wet suit at Sannox. You see all sorts here, from crabs through to basking sharks.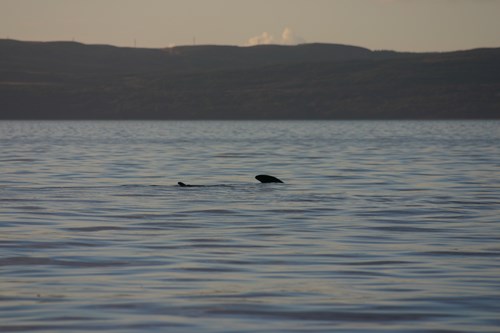 Ah yes, those basking sharks. Let's hop back on our bikes now for the stiff climb with a mountain view en route to Lochranza in Arran's beguiling Highland north. Watch out for red deer as they're starting to come off the big hills now in search of food and more shelter. You might even find a stag as we ease by Lochranza's golf course.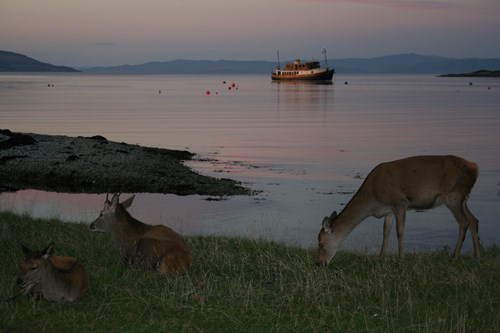 It's here in Lochranza Bay that I've seen hulking basking sharks in autumn twice. They tend to move over here from Ireland in late summer into autumn so keep your eyes peeled. The great thing about them is that if they can find a rich supply of food they'll hang around in the bay for hours circling around, clearly visible from the shore. They are truly majestic creatures and relax – they don't bite!
We're dropping south now down the wilder, less populated west coast of Arran. Keep your eyes peeled for marine mammals as the road snakes along right by the water. Look out too for otters – I've seen more here than anywhere else on Arran. We're bound for Machrie, like the first inhabitants of Arran. They reckoned Shiskine Valley was the obvious spot to set up shop and this is still a very fertile valley. They certainly left their legacy. It comes in the form of the standing stones and circles that ride moodily from Machrie Moor. Everyone has heard of Orkney's Neolithic treasures and Stonehenge, but Arran offers its own world-class prehistoric gems. I like coming here in autumn when there are less people about and the colours are starting to turn.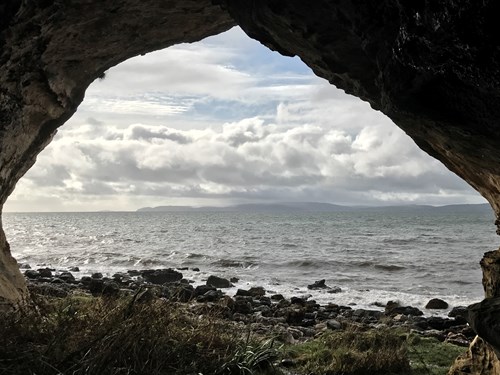 In terms of where to stay one accommodation stands out for autumn and that is the Auchrannie. They've got two swimming pools and a soft play centre so there is plenty to do if the weather turns. Plenty of great places to eat and drink too. They're also able to organise adventure activities on site, which is handy if you're not sure what you're doing.
Heading out into Arran's hills is a joy, but always make sure you're well equipped, plan well and have someone with a map and compass. Conditions can change very quickly so always veer on side of caution. If the thought of Skye's Cuillin seems too daunting in autumn, Arran can offer the experienced an alternative with plenty of variety. There are plenty of low level walks too if you don't want to climb too high.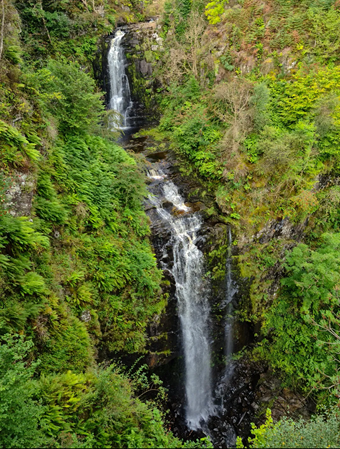 The Glenashdale Falls hike is glorious in autumn. It's still quite a steep ascent, but the reward is there with the glorious waterfalls themselves. En route there are plenty of leaf peeping opportunities too. We're breathing in lungfuls of fresh forest air as we bash through clearing the cobwebs and coursing endorphins through our bodies.
Whatever you do by day on Arran in winter rest assured there will be plenty of places to relax and eat and drink at when the simmering sunset comes. Look out for the Northern Lights of course too. The reasons there is still plenty of choice on Arran in autumn is that the tourist season is long and this is no simple tourist resort, rather a real life living and breathing island community that really comes into its own in autumn. I'm waving you off on the ferry now. Don't forget the old motto – haste ye back! And tell all your friends about Arran in autumn too.